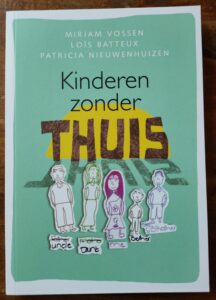 Publicaties
– Headcount of street connected children in Kumasi, 2021, research by Safe-Child Advocacy, Chance for Children, Muslim Family Counselling Support, StreetInvest (2022).
– Kinderen zonder 'Thuis', Mirjam Vossen e.a., Better Care Network Netherlands (2021).
– COVID-19: Action for Children Without Parental Care in Africa-Call-to-action-report, Transform Alliance Africa (2021).
– Kinship care in Sub-Saharan Africa: An asset worth supporting, Family for Every Child (2020).
– The Impact of COVID-19 on Children in Street Situations, Consortium for Street Children (2020), rapport aan de VN met bijdrage van Adamfo Ghana.
– Vooral projecten voor meest kwetsbare mensen getroffen door coronacrisis, VicaVersa (2020).
– PI en Noodhulp, Partin (2020).
– Wilde Ganzen Coronafonds voorziet in behoefte, Partin (2020).
– I will change the world, Adamfo Ghana (2020).
– Deze kans krijg ik nooit meer! Het verhaal van Ben, Adamfo Ghana (2017)
Won de eerste prijs in de Partin Verhalenwedstrijd 2017.
– 60 jaar ontwikkelingssamenwerking door Wilde Ganzen, OneWorld (2017) waarin we met Adamfo Ghana en onze partner Street Children Project worden genoemd.
– Zo vader, zo dochter. Samen in actie voor Ghanese straatmeisjes, Wilde Ganzen Magazine (juni 2017).
– The Social Support of Street Children: The Experiences and Views of Female Head Porters in Kumasi, Ghana, door E. Cudjoe (2016).
– Full educational opportunities for all (2015).
– Social Capital, Health and Health Care among Street Children : A Case Study of Street Children in Kumasi Metropolitan Area, Ghana, door P.A. Amoah en S.H. Jørgensen (2014)
Wanneer 'gewoon helpen' niet genoeg is, publicatie op Afrikanieuws.nl (2014).
Nieuws artikelen
Downloads