Only when a child feels safe and knows that she is being taken care of, can she focus on her education and future. Adamfo Ghana therefore supports the rehabilitation of children that live and work on the streets; we support their return to their parents, family or an alternative home situation. Our focus is on family-based support: families are supported to provide a place for the child and care for her. We also support a centre for girls living on the streets of Kumasi who cannot return to their own family immediately; they are supported to reconnect and reintegrate into their community after a short stay at the centre.
Part of the reintegration is the provision of access to a skills training programme for the child so she will be able to support herself in the future. After all, the key to self-reliance and a better future is access to quality and inclusive education.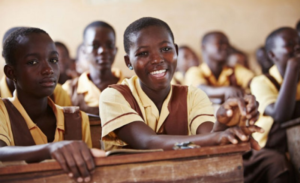 In this context Adamfo Ghana supports the educational costs of (former) street connected children for secondary education (Junior High School and Senior High School) and in some cases higher education. Homework guidance or tutoring is provided when necessary.
However, for some children the combination of factors, like age and education level, makes it impossible to attend formal school. We provide these children the opportunity to learn a trade, through vocational training at a training center or existing entrepreneur. After completing the training program, the young people are able to earn their own income and have the knowledge and skills to take care of themselves.
Projects under this pillar include: