**UPDATE** The government announced that the lock down of the big cities continues for an indefinite period so we have transferred a second batch to our partner in Kumasi. This enables them to provide relief packs to the street children and homeless for the second half of April. Please keep supporting so we can continue providing to the most vulnerable in society.
**UPDATE** Already over 3500 euro's have been donated. Thank you so much for giving and sharing our messages. Please keep going, we are almost there!
---
Leave NO ONE behind.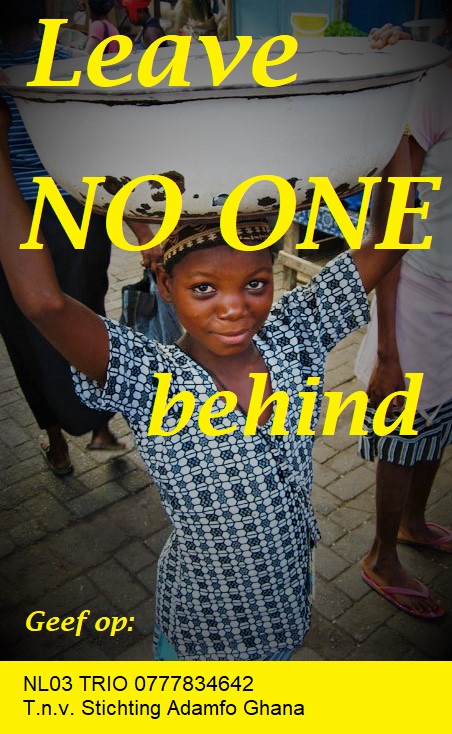 Emergency fund for street connected children and families during the Covid-19 crisis in Ghana.
Accra and Kumasi are currently in lock down for two weeks, as part of government measures to control the spread of the Covid-19 virus. We are terribly concerned for the children, youth and adults living and working on the streets of these cities. How do they stay indoors when they have no place to stay? How do they eat or drink when their main sources of income (carrying goods on the markets, selling on the streets, etc.) are no longer possible? They tell us:
"Our business is like a hand to mouth kinda business. Times are hard for us, bringing this might make us lose our lives. Telling us to stay indoors for weeks will empty our pockets. It means hunger will kill us."
"Most of us do sleep outside at night, so the question we keep asking each other is, where are we going to sleep at night?"
Our partner Street Children Project in Kumasi is handing out food, water, toilet rolls, soap and the necessary paracetamols and medicines. We made a transfer of 2000 euro's today, so they could start their work immediately. But more funding is needed.
We are hoping to collect 5000 euro's over the coming days. That is a lot of money. But it is necessary.
It will save lives.
Will you support us?
You can make a donation through PayPal: Leave NO ONE behind.
Or through bank transfer to:
IBAN: NL03TRIO 0777 8346 42
BIC code (for international payments): TRIONL2U
Name: Stichting Adamfo Ghana
If you have a Dutch bank account it might be easiest to pay through Ideal on our Dutch page.
Thank you so much for giving!