— Update: 22-03-2020: POSTPONED
We are so sad that the Corona-virus has reached Ghana. Ghana has gone into lock down, with travel restrictions in place, schools being closed, social gatherings banned, etc. It is crucial that the virus does not spread any further as the consequences will be disastrous in a country with such a fragile health care system. Therefore, we have postponed all activities that were planned for March/ April to celebrate the International Day for Street Children. More updates will follow as soon as possible.
---
Empowerment programme: Increasing Impact

This project aims to strengthen street-connected children and the local NGOs and CBOs working with them so that they can advocate for themselves and claim their rights with relevant institutions and authorities.
Click here if you want to support our Empowerment programme!
Thema 2020: This years theme is 'Safe spaces for street children'. We aim to prevent that more and more children are living and working on the streets. We raise awareness on the risks involved with 'streetism'. We ask relevant institutions and government to look into this issue and create safe spaces for the children and families living on the streets. Sustainable solutions and preventive measures need to be taken. Action is needed!
Most activities take place in March-April (the two months around the International Day for Street Children, celebrated on April 12th ) although follow-up activities will take place throughout the year.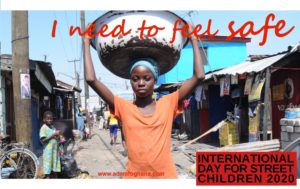 Together with a coalition of partners in Accra, Kumasi and Tamale, we are organising a range of activities:
– Training street connected children as 'Street Champions'. Street children will be made aware of their rights and ability to speak up for themselves. Workshops, training and support for the children to write and give speeches for a big public, and to give interviews with news media.
– Outreach to schools/churches/mosques/community meetings: Targeting communities with high incidence of child streetism or kayaye migration. Outreach programme includes visits to schools, churches and mosques by staff of the coalition partners and Street Champions. The children will share from their personal experiences and highlight the importance of completing ones education. Meetings and workshops with community leaders, teachers and parents will be held to raise awareness.
– Demonstration/ float: Float by street connected children, staff of the coalition and other advocates from and to a central point in the city. Use of banners, flyers, music and PA system to call for attention. Reporters from newspapers, tv and radio will be invited to cover the march. Government official will be invited to join and respond to the call for action.
– Stakeholder symposiums and dialogue, hosting major stakeholders; national and regional politicians, policy makers, traditional authorities, religious leaders, the media, state institutions and organisations working with the children themselves.
– Street children forums, discussion groups and other celebrations.
– Sensitization and media campaign on regional and national radio, tv and newspapers. Release of news items to the press, interviews by Street Champions, broad casting of documentaries, inviting journalists to cover the events above, radio phone-in for the public, etc.
---

---
**Update May 2019**
In 2019 we reached an estimation of over 40.000 people with our activities; schoolchildren, teachers and other staff of schools, church and community leaders, street-connected children, university students and staff, decision makers, politicians, local authorities, relevant organisations and the general public through coverage by TV, radio and other media. The activities took place in Tamale and Kumasi. You can request for the full report at info@adamfoghana.com.
---
**Update September 2018**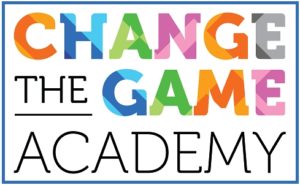 The annual celebration of the International Day for Street Children is a great success. To increase impact we financed the participation of staff members of our partner unto the local course 'Mobilising Support' from the West Africa Civil Society Insitute (WACSI) in cooperation with het Change the Game Academy from Wilde Ganzen. Because we want to increase impact; more awareness and understanding towards street-connected children, more publicity towards the work of their supporters and more commitment from the government and decision makers to find sustainable solutions towards streetism.
---
This programme was supported in previous years by Alert Fonds, Uden Wereldwijd en het XminY – Actiefonds.
---