Vocational training for former street girls and vulnerable young women
With this innovative project we support thirty (30) former street girls and vulnerable young people in and around Tamale to follow vocational training. In addition to the traditional vocations such as dressmaking and kente weaving, we also offer technical vocations such as that of repairing mobile telephones, televisions and other small technical devices, and that of computer administrator in, for example, an internet cafe.
---
Would you also like to contribute to a better life for former street girls and young women in northern Ghana? Click here to donate directly!
---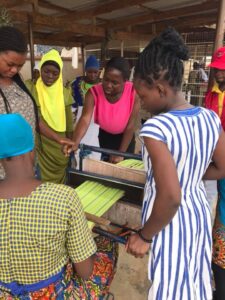 There is currently a lot of work to be found in these professions and Adamfo Ghana wants to give girls the opportunity to specialise in this in order to empower them and break through gender stereotypes. In addition to the vocational training, the young people receive guidance and education in entrepreneurship, accounting and business management. The aim is that after completing the training program they will be able to set up their own business and successfully earn a sustainable and independent income. They receive starter packs for this, so that they do not have to go into debt immediately to start up their business. They are also encouraged to save during the training, and they receive support in setting up a group savings system.
In time, the aim is to have the first cohort of women who graduate, train other girls within their own company. Finally, the young people are trained with workshops to provide information about street life and possible alternatives at secondary schools or other locations. This aims to prevent more and more young girls from choosing to try their luck on the streets of the big cities.
This project is being carried out in collaboration with local partners Center for Development and Policy Advocacy (CEDEPA) and Song-Ba Empowerment Center in Tamale.