The International Day for Street Children takes place on April 12th. It's the perfect time to take action and stand with all those children and youth living on the streets of Ghana and the rest of the world. This years' theme is Safe Spaces. Having a safe space to sleep and live is without a doubt one of the most important human needs (and human rights!). With the current corona-crisis and lock down, this need is more pressing than ever.
Do you want to join us in our call for action? There are three ways you can show your support this year.
1. Spread the word
Spread the word about street children and their rights by sharing our messages on Twitter, Facebook and LinkedIn. We made a clip asking the president of Ghana, Nana Akufo-Addo, to provide safe spaces for children living on the streets. Please share this call for action on as many (social) media platforms as possible!
You can use our banner to update your Facebook cover. Talk about street children's rights and tell people about our projects, and things we can all do to support street connected children.
2. Demand change
Please ask the Government of Ghana to commit to equality for street children. You can do so by sending an email to the Ministry of Gender, Children and Social Protection. Fill out the highlighted sections of the template letter to make it right for you.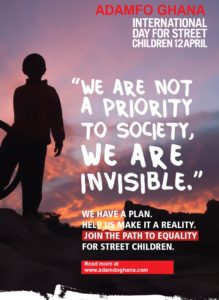 3. Donate
Support the work of Adamfo Ghana by arming us with the financial leverage needed to change the lives of street children. It doesn't matter how much you give, every bit helps.