The International Day for Street Children takes place on April 12th. It's the perfect time to take action and stand with all those children and youth living on the streets of Ghana and the rest of the world.
Do you want to join us? There are three ways you can show your support this year.
1. Encourage a street child
Leave a message of support for a street child in Ghana. We collect all your messages and pass them on directly. This is your chance to communicate directly to a child in Ghana and send them a message of support and encouragement.
2. Spread the word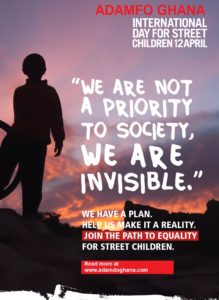 Spread the word about street children and their rights by sharing our messages on Twitter, Facebook and LinkedIn. You can use our banner to update your Facebook cover. Watch and share our promotion movie, talk about street children's rights and tell people about our projects, and things we can all do to support.
3. Donate 
Support the work of Adamfo Ghana by arming us with the financial leverage needed to change the lives of street children. It doesn't matter how much you give, every bit helps.
---